Febno unveiled its futuristic digital solutions at GITEX 2022 
Febno Technologies unveiled and showcased its futuristic digital solutions and products at GITEX Global 2022, held at the Dubai World Trade Centre from October 10 to 14, 2022.
GITEX GLOBAL is known for being the world's largest tech event for funding and investment and for bringing the world's most influential ecosystems through the power of innovation. With more than eight hundred start-ups from hundred plus countries, the event attracted more than a lack of attendees from diverse fields. Febno Technologies actively participated in and featured digital solutions and products in the past years also. The tech event offered a platform to promote our services and develop long-term business partnerships with international clients.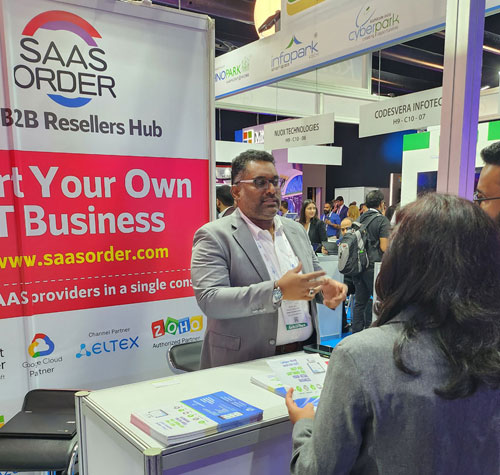 GITEX DUBAI 2022
GITEX Technology Week 2022 provided us with a great platform to interact and discuss with the prospects, representatives from government and private sectors and experts from different sectors to discover our latest advances and developments in the digital field.
Febno highlighted customized digital solutions and products and got an overwhelming response from the attendees. The tech event provided us to associate with many international clients to meet the digital needs of businesses. Our two key initiatives SaasOrder and WaslaSoft are highlighted in Gitex 2022.

SaasOrder- B2B Cloud Marketplace
Among the products we showcased at the GITEX Global 2022, the SaaSOrder, a B2B resellers hub, for selling and subscribing to cloud solutions of major companies, has attracted customer attention. The cloud marketplace is a unique product from Febno Technologies that offers a platform to become a complete cloud solution provider of global brands like Microsoft, Google, Sophos, Acronis, SSL, Eltex, etc.
WaslaSoft- the best POS software for your retail business
WaslaSoft is a VAT and GST-enabled cloud accounting software developed to fulfil Saudi's ZATCHA e-invoicing requirements. It reduces the workload and helps to work efficiently. It is one of the innovative products developed by Febno Technologies.
Being a trusted global IT solution provider offering customer-focused digital services for small, medium-sized, and corporate clients, Febno showcased Retail POS Software Products, Cloud solutions, Enterprise and Mobility solutions, ERP solutions, Web Development Services and Edu Tech solutions in the GITEX Global 2022. We focused on highlighting our expertise in the area of Odoo ERP, Zoho, Courier Logics, Eltex and more. The education solutions we offer Google for Education, and Microsoft Education have been featured in the tech event. We are Microsoft Gold Partners and official partners of Google and Amazon Web Services (AWS).

GITEX GLOBAL 2022 ignites the positive experience
Our positive discussions with prospects all over the globe gave an insightful and positive experience for our team. The meeting, conferences and seminars gave us more understanding of the latest technology and advancements in the global technology industry. The global tech event made us think and develop more innovative and advanced digital solutions in line with the best practices and international standards.