Febno will showcase cutting-edge IT solutions at GITEX GLOBAL 2022
Febno Technologies is ready to unveil its cutting-edge solutions to embrace digital transformations for businesses at GITEX GLOBAL, the world's largest, most inclusive tech & startup event. The event will take place from 10th – 14h October 2022 at Dubai World Trade Centre. GITEX GLOBAL will help to empower businesses and connect to the most influential public-private partnerships, tech giants, creative startups, and enterprises from over 170 countries.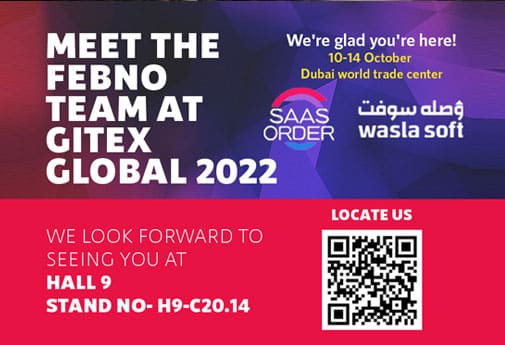 Febno Technologies is a trusted global IT solution provider offering customer-focused innovative and efficient IT solutions for small, medium-sized, and corporate clients to succeed in the fast-moving digital era. We offer Retail POS Software Products, Cloud solutions, Enterprise and Mobility solutions, ERP solutions, Web Development Services and EduTech solutions to our customers. The cloud marketplace B2B order engine 'SaasOrder' is a unique product developed for selling and subscribing to cloud solutions of major global brands. Wasla soft, a VAT & GST- enabled accounting and POS software, is a hassle-free VAT-enabled e-invoicing solution complying with ZATCA KSA. Our motto of exceeding customer expectations by delivering cost-effective and advanced solutions enhances productivity and makes us one of the most reliable technology partners.
We look forward to meet you at H9-C20-14